The summertime heat remains relentless well into August. Many homes with flat roofing in Calgary get the brunt of the sun's harsh UV rays. In turn, this can create potential issues if you don't find a way to cool it down.
See how you can cool down your flat roof here!
How Heat Affects Your Flat Roof
Flat roofs are overall great to have. In some cases, you can even potentially turn it into a rooftop deck for you to relax and enjoy. However, there is perhaps one drawback to a flat roof is its tendency to trap heat.
How does this occur? From thermal expansion. On cloudy or cooler evenings, you can expect your home to be on the colder side. However, the opposite occurs when it comes to hot sunny days. When your flat roof absorbs the sun's heat, it ends up expanding. Normally, this isn't a big issue for some flat roofs, but there is a possibility it can cause problems.
For instance, some sections of your roof expand even when there isn't enough space. In turn, it causes materials to push themselves out along the seams. As a result, it can create gaps that leave your roof vulnerable to water seeping inside.
Potential water damage is a serious issue. It can not only get expensive for repairs but can weaken your roof's strength and invite mold. Even if you might not be paying the cost of damages, you could be paying more for energy because of the heat from your roof.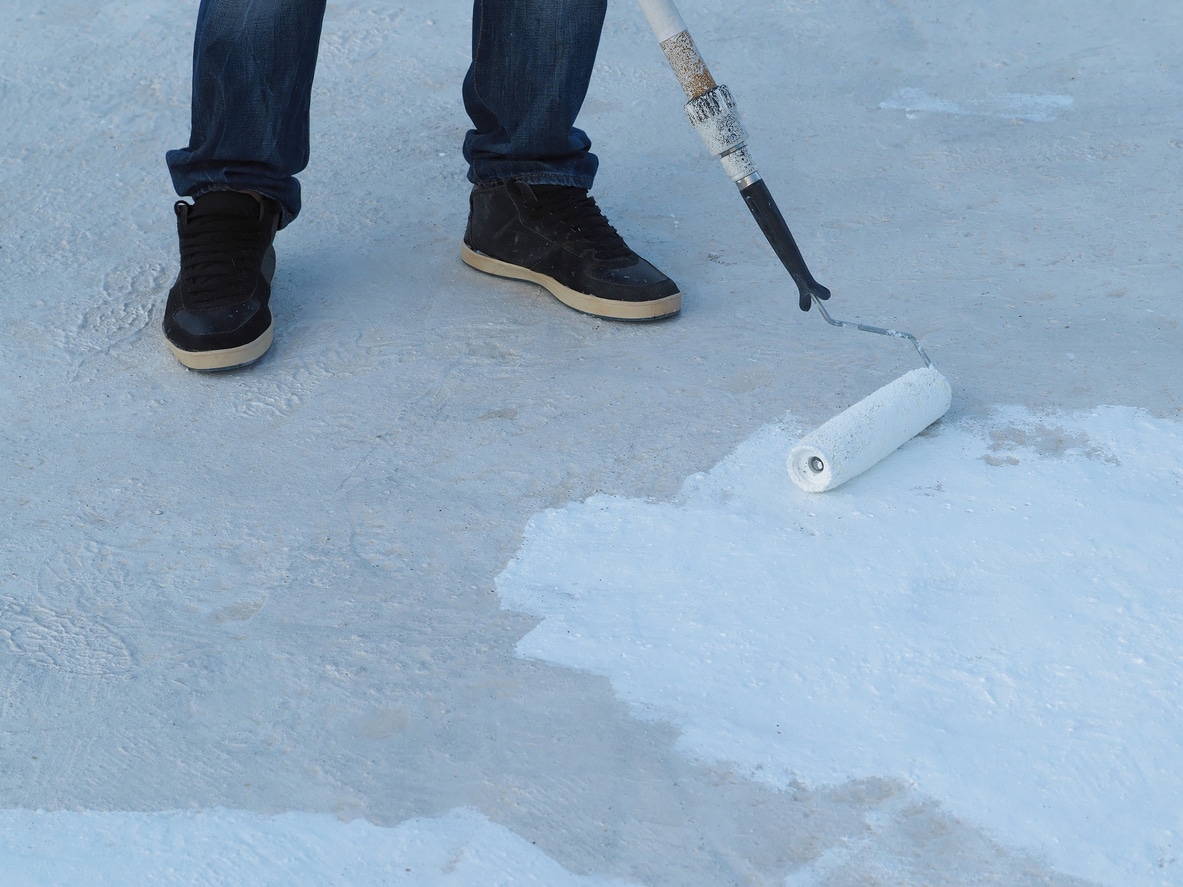 Ways to Keep Your Flat Roof Cool
Thankfully, there are ways you can help cool down your flat roof.
Here are a few ways you can keep your roof cool:
Roofing Coatings
The goal in mind to help reduce heat is by using materials that can help to reflect a majority of solar heat. You can find plenty of materials that do just that, which include the following:
Elastomeric paint
Large polyvinyl chloride (PVC) sheets with heat-sealed seams
Asbestos film shield
A thin layer of solar panels
Foam Insulation 
Another good solution would be to install a layer of solid foam insulation directly under your flat roof. Insulation is meant to help create barriers to the transmission of heat and moisture. In turn, you can expect it to ward off intense heat from coming into your home this summer. Plus, you will thank yourself for adding insulation as it helps to improve your energy efficiency and ultimately reduces your utility bills!
Windcatchers
Lastly, you can consider using windcatchers. If you're not familiar with them, windcatchers have been around for centuries in places with hot climates. They're usually shaped like a dome with vertical weather vanes that rotate at the slightest breeze. From this, it helps to direct cool air downwards into your home. Plus, you don't have to worry about its installation affecting the temperature in your home when it gets cold. Windcatchers are equipped with a vent seal to keep cold air out.

City Roofing & Exteriors consistently takes pride in serving Calgarians. At City Roofing, we understand the importance of customer satisfaction. We put safety, quality work and on time delivery as our top priority. We work hard to assist our customers in providing proper roofing systems to meet their budget and needs. We offer completed roofing services in Calgary and area on both residential and commercial projects. We guarantee that you will be satisfied with our work and recommend City Roofing as your roofing consultant and contractor. Give us a call at 403-608-9933 or send an email to [email protected]