Regarding commercial roofing in Calgary, there are various options for materials. From traditional materials like asphalt and metal to newer options like TPO and PVC, choosing the right material for your commercial roofing project can be difficult. Find out some of the best commercial roofing materials available and the factors you should consider when selecting from commercial roofing companies in Calgary.
Top Materials For Commercial Roofing in Calgary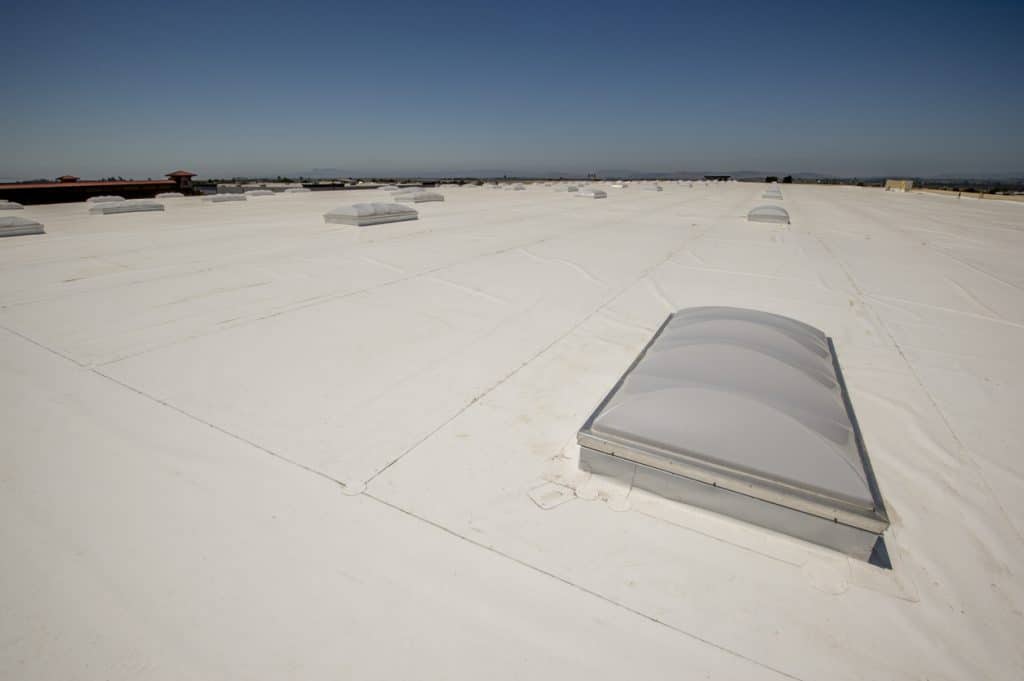 Metal Roofing
Metal roofing is a popular option for commercial properties due to its durability and longevity. Many choose metal roofs for commercial roofing in Calgary since they can last for decades and are resistant to wind, rain, and hail damage. They also require minimal maintenance, making them a cost-effective choice in the long run. Metal roofing can be made from various materials, including steel, aluminum, copper, and zinc. One of the main benefits of metal roofing is its energy efficiency. Metal roofs reflect heat, which can help to reduce energy costs during hot summer months. Additionally, metal roofing is environmentally friendly, as it can be recycled at the end of its useful life.
TPO Roofing
Thermoplastic Olefin (TPO) roofing is a relatively new material that commercial roofing companies in Calgary have seen become increasingly popular in recent years. It is a type of single-ply roofing membrane made from a rubber and plastic blend. TPO roofing is lightweight, flexible, and easy to install, making it an attractive option for many commercial property owners. Also, it's energy-efficient, as it reflects heat and helps to reduce energy costs. Additionally, TPO roofing is resistant to UV radiation and chemicals, making it a durable choice for commercial properties.
PVC Roofing
Polyvinyl Chloride (PVC) roofing is another type of single-ply roofing membrane that has garnered popularity. It's made from a flexible, durable material resistant to UV radiation and chemicals. Like TPO roofing, PVC roofing is also energy efficient, reflecting heat and reducing energy costs. PVC roofing is also fire-resistant and is an attractive choice for commercial properties that require additional fire protection. Additionally, PVC roofing is easy to install and requires minimal maintenance.
Modified Bitumen Roofing
Modified Bitumen roofing is a type of asphalt roofing reinforced with a polyester or fibreglass mat. Modified Bitumen roofing is durable, flexible, and resistant to UV radiation, chemicals, and weather damage. Additionally, Modified Bitumen roofing is easy to install and repair, making it a cost-effective option for commercial properties. Its versatility is its hallmark trait, as it can be installed as a single-ply membrane or multi-ply system, depending on your needs. Additionally, Modified Bitumen roofing can be installed with various finishes, including reflective coatings that can help reduce energy costs.
Factors to Consider When Choosing a Commercial Roofing Material
When selecting a commercial roofing material, there are various factors to consider. These include:
Durability
Energy Efficiency
Cost
Maintenance
Fire Resistance
Appearance
Installation
The best commercial roofing material depends on the specific needs and preferences of the property owner. Metal roofing, TPO roofing, PVC roofing, and Modified Bitumen roofing are all durable and energy-efficient options worth considering. When making your selection, be sure to consider factors like cost, maintenance, appearance, fire resistance, and the expertise of contractors in your area. With careful consideration, you can choose a commercial roofing material that will provide long-lasting protection and value for your property.
City Roofing & Exteriors consistently takes pride in serving Calgarians. At City Roofing, we understand the importance of customer satisfaction. We put safety, quality work and on time delivery as our top priority. We work hard to assist our customers in providing proper roofing systems to meet their budget and needs. We offer completed roofing services in Calgary and area on both residential and commercial projects. We guarantee that you will be satisfied with our work and recommend City Roofing as your roofing consultant and contractor. Give us a call at 403-608-9933 or send an email to [email protected].